Hi! My name is Emma and I'm a 22-year-old recent college graduate. Even though I have worked for the Himalayan Institute Humanitarian Projects Department for the last two summers, this will be my first time visiting Himalayan Institute Cameroon (and my first time going to sub-Saharan Africa). This day-by-day travel blog will provide you all with an up-close look at the preparation as well as the daily adventures we encounter during our time in Cameroon. Enjoy!
Traveling to Cameroon
Today's the day—en route to New York City to begin the journey to Cameroon. First leg of the trip is from New York to Brussels, and then from Brussels to Douala, Cameroon. It'll be a long trip, but I've got my snacks, water, and melatonin.
Update from the other side: successfully made it to Douala! When we stepped off the plane, we were instantly hit with a wall of heat and humidity, and views of lush and expansive landscapes. After showing our yellow fever cards and getting our passports stamped, we got our checked luggage and met with our group.
Jeff and other HIC staff members were there to greet us, and led us all to the bus that would take us to the Planet Hotel, our first stop on our exciting adventure. Gathering in a group and seeing lots of familiar faces was quite fun and comforting—especially since I was used to seeing most of the people back in Honesdale, PA. After getting situated in our hotel rooms, we placed our orders for dinner at a nearby Mediterranean restaurant, and Jeff came around to everyone's rooms to exchange our dollars to francs. We all got back on the bus and headed over to the restaurant. It was an open air, cozy place, with the world cup playing live on a big projector screen in the background. We had some tasty fresh salad, mango juice, bread, pizza, and tabouleh.  Everything was fresh, made to order, and incredibly tasty! I mustered up the courage to try some of the special Cameroon hot sauce, and it was so intense my mouth was on fire for the rest of the night. Definitely worth trying if you go, as it has an incredibly distinct flavor. With full and happy stomachs, we went back to our air conditioned hotel for a much-needed good nights rest.
June 19th: Travel to Bamenda
We got an early start, and met in the lobby of Planet Hotel at 5:00 a.m. sharp with all of our luggage. The hotel staff had a beautiful breakfast prepared for us, with some familiar and new foods I had never seen before. I was excited to try it all! My favorite new food was a fruit called a plum. It looked like a potato and had the consistency of a sweet potato on the inside, but tasted a little bit tangy and also had a big pit! Definitely different than anything I've ever tried before, but that's the best part.  It's a traditional breakfast food in Cameroon, so hopefully we will get to have some more of it over the next couple weeks. After Jeff and Ishan packed up all the lunches for the group, we were off on our 12 hour bus trip to Kumbo, the capital of the Northwest Province of Cameroon and the location of the Himalayan Institute Cameroon's main campus!
Driving through Douala was fascinating—it is home to just over 5 million people, and there were up to five people piled onto motorcycles weaving through the heavy traffic. We drove over one of the brand new bridges in the city, that helped reduce traffic and congestion and made it easier for thousands to move around the city and get to work and school.
As we drove out of Douala, we got to see the river that leads to the ocean, and the main port that all of the international shipments come through to go to the rest of the country. The Himalayan Institute Humanitarian Projects Department has sent countless shipping containers through this port, so it was really cool to finally see where they end up!
As we got farther outside of Douala, the landscape began to change. Instead of concrete and buildings, we began to see rolling hills, endless fields of palm trees, and incredibly lush vegetation. Africa is commonly stereotyped as being dry and desert-like, but in Cameroon and many other African countries, that couldn't be farther from the truth. It was almost as if we were driving through a dense and beautiful rainforest.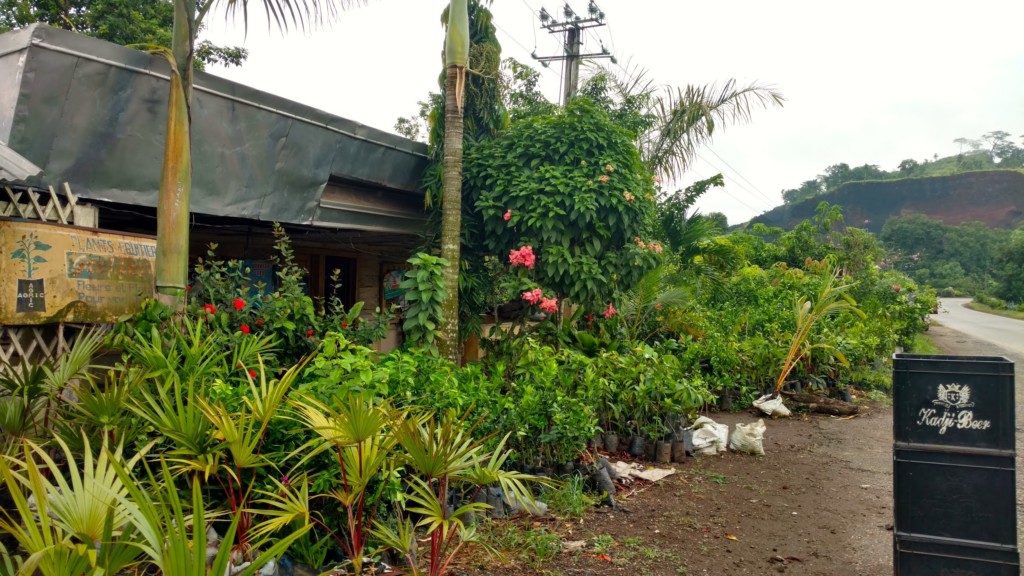 Our first stop along the way was at a local fruit stand. This was it. The moment I had been waiting for for the last two years. Cameroonian mango and pineapple! Everyone I spoke with that had ever been to Cameroon couldn't stop talking about how amazing the fresh fruit was. And it definitely did not disappoint. We got off the bus, and there were multiple fresh fruit stands with chopped mango, pineapple, and lychees. Actually, I had never seen or tried lychees before, but they were amazing. The mango and pineapple were so juicy that my hands were drenched by the time I finished eating. I definitely understand what all the hype was about.
Side note: as we drove through the lush countryside, there were lots of little animals on the side of the road. At first, I thought they were dogs, but then as I looked closer I realized they were tiny goats! There were so many of them, and they all liked to perch on top of rocks. I later found out that they are a breed of goat called Nigerian Pygmy Goats.
June 24th: Talking with Clara
As I was sitting on the deck overlooking Kumbo and the village of Tobin, a woman with a familiar face walked up to me and introduced herself. Her name was Clara, and she was the tax compliance officer and administrative director of Himalayan Institute Cameroon. Over the last couple of years, I had heard her name mentioned countless times, and had seen her photos and bio on our website. It was so great to finally meet her! I was already incredibly impressed with the work she did—being a woman in the government tax compliance field must be challenging. I asked her about her family, and she told me she had a 1.5 year old son. She showed me an adorable photo of him all dressed up in a collared shirt, and promised to bring him by HIC so I could meet him before I left. While we were on the topic of children, she opened up about the immense pressure that is placed on women in her culture (in this part of Cameroon) to have children. She said that women are not seen as accomplished or complete until they have a child, even if they have had a successful career like she has. She spoke about the hardships that come with balancing motherhood and full time work, and I became even more impressed with her strength and perseverance. I also asked her about her experience as a woman in the government tax compliance field. She said she constantly had to deal with overly and ego-driven men in the government who would try to intimidate her from doing her job. But she said she never let that stop her—she just had to stand her ground and stand up to these men, and be a strong and vocal advocate for herself and her work. I was becoming more and more impressed with her by the minute! She briefly spoke about the fight for women's equality and more female representation in government (something that doesn't seem to change no matter where you are in the world). A big step in promoting gender equality and women's empowerment is making sure women are hired in these kinds of positions (government tax compliance, government, etc.), and Clara is a wonderful example for generations of young women to come.
June 25th: Service (Paint Library), Coffee Farm Tour & Chocolate Making Demonstration
We began our day with a group volunteer session cleaning the inside of the HIC Kumbo public library. The library is incredibly well managed by the library director Yau, who has been with the institute for three years. Our task for the morning was to remove all the books from the shelves and dust them, wipe down the shelves, return the books to their original place, and also clean the floors of the library. During the dry season, lots of dust blows in, so it was great to all work together to get the library sparkling clean! While we were hard at work, it was impossible not to notice the wide selection of books available in the public library—from non-fiction novels and textbooks, to children's and philosophy books, I could tell that this was an important resource for the community.
After lunch, we took a short walk behind the HIC building and went on a private tour of a coffee processing plant! I had looked out over the backyard at HIC for many days and never realized there was this entire processing plant so nearby. If you have heard of the Institute, you have probably also heard of Moka Origins (the coffee and chocolate company co-founded by our humanitarian projects director Jeff Abella). He has a great relationship with the manager of the plant, and led us on the tour and walk-through of the facilities. We got to see up close the step-by-step process that the coffee beans go through, from harvest to sifting to sorting and packaging. There were lots of people sitting on the floor hand sorting the coffee beans. I was amazed to learn that all coffee, no matter where it comes from, goes through this labor-intensive sorting process. Definitely made me appreciate my morning coffee a little bit more.
After the tour, we made our way to the backyard of HIC for a chocolate making demonstration! Jeff also led this portion of the day, as he is the Institute's go-to expert on all things coffee and chocolate. There were multiple stations set up, and everyone got to participate in sorting the cocoa beans, roasting, grinding, winnowing, and liquefying until we had a finished chocolate product. Moka only has two ingredients in their chocolate (cocoa nibs and sugar). Paired with this incredibly fresh chocolate, we had fresh-made puff puff (a traditional Cameroonian pastry, that is a small round ball of fried dough/kind of like a doughnut hole). We drizzled the decadent liquid chocolate over our fresh fried puff puff, and indulged! What a lovely afternoon.
June 26th: Service, Free Time, Chai, Traditional Juju Music/Dance
Today was the much-anticipated 10th anniversary celebration of Himalayan Institute Cameroon! Guests, staff, and local/national media gathered in the backyard as the program began. The managing director of HIC (Jeff Abella) began the ceremony, and introduced someone from each division (The Total Health Center, School of Carpentry and Construction, Women's and Family Empowerment, and Public Library System). One of the most moving speeches was from a young woman who had gone to high school in Kumbo. For many years, she used the library's resources (especially text books) to study for her exams. She emphasized that she was not able to afford her own textbooks, and that the Himalayan Institute Library is what made it possible for her to study and gain admission to university, which she now attends in Bamenda – she is in her third year of study and almost finished with her degree in biosciences. There were also speeches from the managing director of the Himalayan Institute (Ishan) and the spiritual head (Panditji). Panditji's speech focused on the many misconceptions foreigners have about African countries, and how Cameroon has an incredible wealth of untapped potential that will only continue to grow in the years to come.
After the ceremony, we all headed out to view a brand new plot of land HIC had just purchased. The land will be the new location of the office headquarters of Himalayan Institute Cameroon! The current location will still remain open and active, but this is just an incredible new way for the Institute to expand its efforts in Cameroon. The plot of land is in a beautiful place—on a hill overlooking the section of Kumbo called Squares (the burrough of Kumbo that borders Tobin, where HIC currently is). The sweeping and expansive views were breathtaking, and we got to go on a quick walk around the new property.
Later in the afternoon, we had a private performance from the JuJu and his dancers! There was an entire crew of musicians playing a large xylophone-esque instrument laid out on the ground. The Juju did a traditional dance with his fellow dancers that were dressed in colorful spiky hats. All of the dancers were holding narrow brooms, and while using them in their dance, they would come over to the audience and hand the broom to someone they wanted to come join in. Soon after, we had the whole group dancing in the middle, and it was a wonderful sharing of cultures and traditions.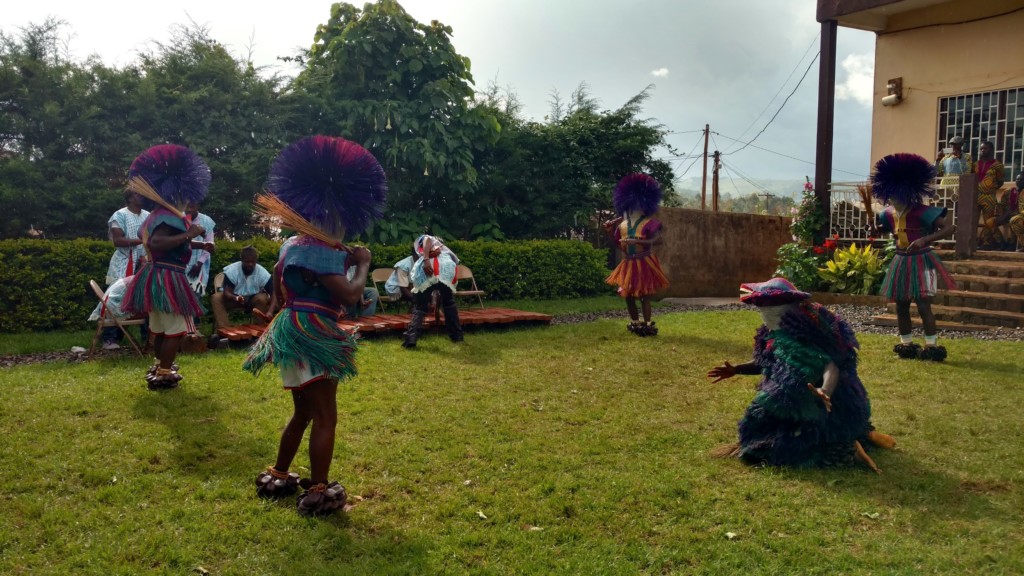 June 27th: Depart for Limbe (Lush Southwest Region)
We had an early departure from HIC this morning. It was a little bittersweet saying goodbye to such a beautiful place with such welcoming people. We had breakfast and chai and watched the sun rise over Tobin one last time before getting on the bus and setting off on our 10 hour ride to Limbe!
The scenery was just as beautiful as when we came to Kumbo. Incredible mountains, herds of cattle crowding the road at times, and of course, endless amounts of Nigerian Pygmy goats everywhere you looked. We made our way through urban areas with lots of people young and old selling goods—peanuts, fresh pineapple, coconut, and roasted corn. The women had their babies strapped to their backs with colorful cloth.
As we got closer to Limbe, we started driving through massive farmlands growing bananas, palm, and rubber. These crops are just as common as soybeans and corn are back in the United States. Seeing differences as simple as the crops that are grown in this part of the world is a great reminder that there is so much world to see, and that it's the differences that make each place so beautiful, unique, and interesting.
June 28th: Animal Wildlife Rescue, Black Sand Beaches
After we settled into our rooms at the beach hotel in Limbe, it was time to explore this new part of Cameroon! I think the best part of this excursion experience is that you get to see so many different parts of the country—the major metropolitan area of Douala, the rural highlands of Kumbo and the Northwest region, and the low-lying coastal region of Limbe.
The most noticeable difference of being in Limbe was the weather. It was incredibly hot and humid—it reminded me of the climate in Florida— and had tropical animals and vegetation. This was a fun change of pace from the colder/higher elevation region we had been in for the past week. There were multicolored flowers and tiny geckos running around everywhere—the Limbe equivalent of squirrels in the northern parts of the US.
Our group gathered for breakfast in the hotel restaurant, and in addition to a lovely spread of food, we were joined by two wild horses that roam around the hotel grounds and the beach. We spent the first half of the day swimming in the ocean and spending time on the black sand beaches. I was approached by one of the lifeguards while I was sitting in the sun, and he offered to sell me a fresh coconut from one of the trees on the beach. He brought me a coconut and opened it right in front of me with a machete and handed me a straw. Cameroon continued to surprise and impress me on a daily basis!
Later that day we toured the Limbe Wildlife Center, a facility that rescues animals from poaching around West Africa. Our tour was lead by a local guide who had worked with the wildlife center for years and was incredibly knowledgeable.
We got to see gorillas, baboons, chimpanzees, countless other kinds of monkeys, and an African python! Many of these were animals I had never seen before, and it was a great experience seeing many rare animals that would otherwise have been captured and killed by poachers in the area. Our tour guide also informed us that each of the monkeys had been given names upon their arrival, and that they had grown so accustomed to their names that they directly responded to them when they were called. It was amazing to witness the intelligence and voice recognition these beautiful animals had developed over time!
MOUNT CAMEROON
DISCLAIMER: I am not a super athletic person, and didn't intensely exercise/prepare for this hike. Even though that probably wasn't the best approach, I was still able to complete this trek without any major physical repercussions, and I felt really great and physically empowered after we were finished 🙂 If you are at all hesitant about doing this trek, I highly encourage you to get out of your comfort zone and give it a try!
After an early breakfast at our hotel in Limbe, our small group of about 10 set out to begin our four day trek up and back down Mount Cameroon. When we got to our starting point, we had a chance to meet all of the porters and our guide that would be hiking with us. Porters are local Cameroonians who are hired to carry larger bags, camping supplies, and food up the mountain for tourists that come to hike Mount Cameroon. It was an incredible luxury to have them along—not only were they knowledgeable and well versed in the wildlife and plants, but many of them had done this hike countless times. They were also a great motivator, because they could do the hike twice as fast as our group while also carrying all of our luggage on their heads.
The first portion of the trek was through the rainforest. It was beautiful—dense green trees, plants, and flowers in every direction, and a light mist that followed us as we hiked farther up the mountain. Eventually, it started to rain which progressed into a downpour (little bit of advice: wrap everything inside your backpack and duffle in multiple plastic bags, and make sure to bring a rain jacket and rain pants). It was a fun adventure as we hiked through the rain and finally made it to hut 1! There is a system of huts up the mountain (hut 1, intermediary hut, hut 2, and hut 3). When we took our first break at the hut, the porters had already arrived and made a small fire in one of the huts. We all huddled around the fire and got to know each other and the porters a little bit better. That was the moment I knew the rest of the trip would be an incredibly fun and unforgettable experience.
After we had warmed up around the fire, we set out once again so we could reach our destination before nightfall: intermediary hut. As we continued hiking, we suddenly broke out of the jungle and were able to see the steep face of the mountain ahead of us as it disappeared into the clouds.
We reached intermediary hut as the sun started to set, and had an amazing dinner of spaghetti and fresh sauce prepared by the porters. Finally above the clouds with full stomachs, we got a good night's sleep so we could be up bright and early for another full day of hiking!
As we all woke up for our second day on Mount Cameroon, we learned that today would be the shortest distance, but the most difficult portion of the hike to complete. The terrain was pretty rough and steep, but morale was high and the views were amazing!
As we made it to the top of another summit, Hut 2 was finally in sight! These were not exactly "huts," but instead they were very cute cabins built into the side of the mountain. Two of us were assigned to each hut, and there was also a common room where we could all gather, eat meals, and spend time together! It was amazing they were able to build such great structures at such a high elevation. To say I was impressed would be an understatement.
The next morning, we were all up early and left at sunrise to make it to the summit of Mount Cameroon! This was an interesting part of the trek, as it was a combination of the steep and rocky terrain we had experienced the day before, as well as the more barren terrain towards the top of the mountain. As we got closer to the top, the only thing you could see in every direction was lava sand and rocks, covered in a green moss. We were also in the middle of a cloud, which gave everything a foggy/misty look.
During the hike, we all had an ongoing joke to ask our guide if the ridge farthest off in the distance was the summit. Every time, he would smile and say "not even close." But this time, he finally pointed to the ridge off in the distance and said "that is the summit." With the end in sight, we all pushed ahead and made it to the top! It was such an exhilarating feeling standing on the top of Mount Cameroon, knowing we had hiked all the way there, together.
We made the trek back down the mountain to Hut 2 to spend one more night there before we went all the way down the mountain. The next morning, we set off again at sunrise. Seeing the beautiful colors above the clouds one last time was breathtaking.
The rest of the way down went much more quickly than the way up. Sooner than I expected, we saw the entrance to the jungle and the end of the steep rocky terrain. As we entered the jungle, it started to get warmer, and we could feel that the end was near.
Finally, we made it to the paved road we had started on and saw our bus waiting to take us back to the hotel. Feeling exhausted, but incredibly accomplished, we all congratulated one another and fell asleep in the car as we made our way back to Limbe.
What an amazing way to end our time in Cameroon! It was a physically empowering and bonding experience, and quite a unique way to see the country. This definitely isn't something I would have done on my own, and I want to thank Jeff Abella and the Himalayan Institute for pushing me out of my comfort zone in the best way possible!
If you're on the fence about participating in this excursion, I would encourage you to take the leap and do something outside of your comfort zone. You'll meet some amazing like-minded individuals, see a beautiful and vibrant part of Africa, and experience some personal growth in the process.
For more information about our work, please click here. If you are interested in supporting projects like the ones highlighted in this blog, click here. Also, follow us on Facebook!